In the meantime, have some of his old blog:
SFX Review of Mega-City Undercover – April 26th
Oh yes, also, SFX review MEGA-CITY UNDERCOVER in 169 and the review says some very positive things about me – "Aimee Nixon is a beautiful creation… possibly the best heroine 2000AD's featured for the past decade. Some of comics greatest writers used 2000AD as a training ground for creative flights of fancy… Williams deserves entry (to this list) for Nixon alone." Blimey.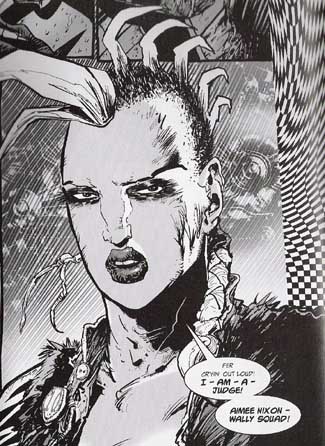 Back from New York – April 26th
First time in New York, and it pretty much overwhelmed me. The city itself was pure bonkers in terms of scale and stimulation. The con was pure highs and lows. As with when I visited San Diego a few years back, it just exhausted me. One minute you're flying high after lots of praise – and thank you if you came up and said hello during my signing at the Dark Horse booth – and the possibility of new and exciting writing jobs, the next you're getting a different door slammed in your face (or, at least, that's what it feels like at the time, although the heightened sense of everything at these things may make it all seem better and worse than it actually is, I'm sure). It's an emotional rollercoaster. Add lots of late nights, a good few drinks sunk, not much sleep, jet lag and lots of walking around Manhattan and it all adds up to the need for a holiday at the end of the trip just to recover.
And you sometimes get to meet the most unexpected people at these things:
That's myself on the left, John Jackson Miller (writing the Indy and the Crystal Skull adaptation) on the right, and some bloke in the middle. No idea who he was dressed up as.
Lots of highlights on this trip, among those were how excited everyone seems to be about the new Indy comic, just being in and wandering around New York, visiting the DC offices, meeting a few new people whose work I admire – bought a beautiful Indy piece of art from Tommy Lee Edwards, Jason Aaron told me he enjoyed my Wolverine issue (his Scalped is one of the best books around at the moment), Mike Perkins was a lovely bloke, ditto for Ben Abernathy – and hanging around with a great group of friends all week. I've not laughed so much in years, and much of the credit for that goes to Al Ewing, who was a quote-generating machine. Top man.
There's plenty of work news at the moment, pleasingly. The latest issue of the JUDGE DREDD MEGAZINE (271) features the first part of the new LOW LIFE – WAR WITHOUT BLOODSHED, by myself and Rufus Dayglo. As I've recently said to Rufus, you can be pleased with a script, like the art, but have no idea if the two will mesh together on the page. This, however, works, I think. I'm hugely pleased with how it's turned out. For once, there's no part of the script I dislike (A rarity for me) and Rufus' storytelling is spot on.
The same issue of the Megazine also features a seven page interview with me by Matthew Badham.
2000AD, and THE TEN-SECONDERS: MAKE. BELIEVE welcomes Ben Oliver (Ultimate X-Men, The Authority) as artist this week (Prog 1584). Ben's one of the best artists in comics, and it's fantastic to get have him finishing the series. Just look at this episode and you'll know what I mean. Real dynamic storytelling, this. Looks great.
I've been active interview-wise, plugging INDIANA JONES AND THE TOMB OF THE GODS. There's an interview with me in DEATHRAY magazine issue 12 and one coming up in SFX 170. Steve Scott, our brilliant artist, has done an interview and shown of some interior pages at Newsarama which seems to have gained a good response. WIZARD and COMIC BOOK RESOURCES are running interviews soon, too.
Now, back to work.
New York Comic Con – April 14th
Just a quick note to say that I'll be attending the New York comic con this coming weekend, and I'll be signing at the Dark Horse booth on Friday between 4pm and 5pm, so come and say hello. Cheers.
Indiana Jones in Previews – March 27th
Dear Lord, we're on the cover. No pressure, then.

The Ten-Seconders – Make. Believe – March 18th
Lordy, i actually think I started writing the second book of The Ten-Seconders before my son was born, and he's 22 months now. Frightening. Anyway, this week, in 2000AD PROG 1578, the second series of The Ten-Seconders – Make. Believe – actually starts. Finally. We open with several gorgeous episodes by Dom Reardon (Caballistics, Inc.), then Shaun Thomas takes over for a few episodes, and then the bloody wonderful Ben Oliver (Ultimate X-Men) will be bringing us home. Ben's a fellow Bristol resident and I talked him ino it over coffee one day. It's amazing what caffeine will make you do.
Anyway, we pick up where series 1 left off. Gods, who bear a remarkable similarity to superheroes, or supervillains more pertinently, have taken over the planet. Only small groups of human resistence are left to fight a losing battle. They're called The Ten-Seconders because that's the average time one lasts if they actually encouter a god.
Only two of our original cast are left from series 1. Malloy, an ex-Priest, and Harris, a bald short Welshman with agression problems. They've been given a disc of coordinates telling them where something is hidden which may reveal the secrets of the gods. But it's way across America and the country is a VERY dangerous place to be. Even more than it is today in reality. Imagine that.
It's a post-apocalyptic road movie with lots of recognisible superhero fun thrown in. Big explosive thrills with themes of religion and loss of faith. Take a look. here's an upcoming cover by Cliff Robinson:
Indiana Jones And The Tomb Of The Gods – March 5th
Well, it's been announced in Wizard magazine so I can finally talk about it. Dark Horse comics are launching a brand new Indiana Jones comic to coincide with the release of the movie this summer and I'm absolutely stupidly ridiculously delighted to say that I'll be writing it. We're opening with a four issue arc entitled Indiana Jones And The Tomb Of The Gods. Tony Harris (Starman) is on covers, see below for #1 – now there's a joy, considering how much I loved Tony's Starman a few years back – I'd best not say too much on the interior art front, as there's been no official announcement of what's happening there yet, but I've seen concept sketches and they look incredibly nice.
For me, Raiders Of The Lost Ark is about as perfect as movie entertainment gets, so hopefully we'll be keeping the same kind of tone. Lots of swashbuckling, lots of whips and hats, lots of mystery and a big splat of romance, too (is splat of romance a recognised term).
Issue #1 should be released in June, I believe. This is an absolute dream come true job for me. I'm really looking forward to it.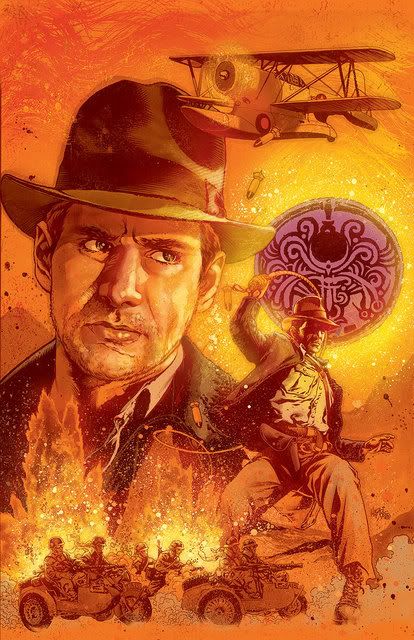 Star Wars Rebellion: The Ahakista Gambit GN – February 7th
I almost forgot that this was being released this week – the graphic novel collection of the five issue arc myself and Michel Lacombe (PUNISHER) did for Dark Horse last year, with a cover by Luke Ross, whose Iron Man comics I used to read as a kid, and some plot assistance by Brandon Badeaux. Some nice character stuff here, I think (I hope), with Wyl Tarson being the latest in my now long list of conflicted and troubled 'heroes' with a dubious sense of morality. I really must write someone like Superman one day – the out-and-out heroes never seem to be my thing. Ah well:
Mega City Undercover – February 5th
Hopefully he won't mind me using this here, but Jock's just completed the new cover for the MEGA CITY UNDERCOVER graphic novel, being released by Rebellion on March 15th. It collects all my LOW LIFE stories from 2000AD, with amazing art by Henry Flint (OMEGA MEN) and Simon Coleby (THE AUTHORITY), along with Jock and Andy Diggle's LENNY ZERO tales – their initial collaboration prior to THE LOSERS.
Very lovely this is, too. You can pre-order from:
http://www.amazon.co.uk/Mega-City-Undercover-Andy-Diggle/dp/1905437528/ref=sr_1_1?ie=UTF8&s=books&qid=1202212818&sr=1-1
New York Comic Con – January 16th
Just a quick announcement that I'll be attending the New York Comic Convention between April 18th-20th. Booked my flights just this morning. I've never been to New York before and, after a lifetime of reading Marvel comics and loving movies like Manhattan, When Harry Met Sally and Ghostbusters, it feels like the city's been an integral part of my upbringing. I'm quite excited.
Happy New Year – January 10th
Last entry back in August, eh? Shocking. Anyway, with Christmas over for another year (and limited inter family bloodshed this time, yay) it's back to work time, and I thought I'd best update the website. After all, I did pay for the bloody thing.
OK, project update:
The Ten-Seconders – Make. Believe for 2000AD is finally finished, all 13 episodes of it. I sent in the final script last week. It's been a long time coming, this one, not because I've struggled with it – I seriously had huge amounts of fun writing this and suspect it's one of the better, more populist things I've written. Probably the closest in tone to Cla$$war in terms of the widescreen action thing, and that remains my biggest hit to date. But having a son threw my work schedule completely out of whack last year, and considering the delays we've had with the art side of things (we're currently onto our third artist on the series, don't ask) there was no great rush on deadlines and it kept slipping back.
Anyway, it's done now, I'm very happy with the script, and that third artist is fantastic and absolutely perfect for the tone (can't say who he is yet). Fingers crossed that he doesn't go the way of the other two and actually finishes the thing. As long as he does it'll be a treat.
Not sure when it'll be in 2000AD, of course, although I saw a new Ten-seconders cover by Cliff Robinson this week, so it's obviously coming soon-ish. I'm very enthusiastic on this one. Keep a look out.
Low Life – War Without Bloodshed for the Judge Dredd Megazine. Very nice full page ad for this in the latest Meg in which Rufus Dayglo's art looks great. I've written three of the four eight page episodes, and very noir and grimy and nasty it is too. It makes sense for Aimee Nixon to go over to the Meg – this is Dredd's world, after all (the big chin even makes a guest appearance in this story, which was fun). With Si Coleby off being rich and succesful on The Authority, we were left searching for a new Low Life artist, and Rufus has stepped in and done a striking job. There's a real energy about his pages. You can see him growing all the time, finding his own style. Looks great, this one.
Meet Darren Dead – Eats, Shoots And Kills for the Judge Dredd Megazine. Again, this one fell by the wayside a bit because of fatherhood duties, but it's a huge load of fun. It's me writing in the silly tone of a Dirty Frank story, which I always enjoy (even if no-one else does). Three episodes, this, I've written one so far and I need to get on with the other two. John Higgins will be back on art.
Star Wars: Rebellion – Vector for Dark Horse. I'm just starting writing my two-parter that fits into the massive Vector storyline. It's been an interesting new experience for me, finding myself part of a larger writing team. John Ostrander and John Jackson Miller have been the main architects of the Vector storyline, although I've pretty much had autonomy with my two parter. Basically, they give you a character who will be at (A) at the opening of your arc, and they tell you that character has to get to (B) at the close of your story so another writer can pick them up while working at the same time, it's up to you how you get them there. Can't say too much about my two-parter here, although it'll be featuring Luke, Vader, Leia, Han and a few others. So all good healthy Star Wars fun. Here's the cover art for the first part of the Vector storyline, Knights Of The Old Republic #25, by a certain Travis Charest, who's not bad, as it goes:
The boy can draw a bit.
There's something else in the works that I'm just about to start writing, and it's a very big deal for me and something I am HUGELY excited about, but it's not been officially announced yet so I'm keeping my mouth shut. I'll squeal with excitement on here the moment I'm allowed. But it's something of a dream job.
What else? It looks like I'll be at the New York Comic Con in April. Haven't booked my flight yet, but I'm about to. Never been to NY before, so that'll be a thrill. I plan to do as many ciched tourist visits as humanly possible. Eating at the Seinfeld restaraunt – definitely.
I did a big interview with Matthew Badham recently for inclusion in the Judge Dredd Megazine, that'll be in soon, I expect.
And, on the other side of the microphone, I interviewed Mike Mignola recently for SFX Magazine. Not sure when that'll be published at the moment. I think they're going to run it when Hellboy II is due out.
Random things I love at the mo:
The new Larry Sanders box set – One of the best TV shows of all time and the most enthralling, 'I can't believe they put these on' behind-the-scenes interviews you could ever wish for. The one with Garry Shandling interviewing Sharon Stone is awkward to a zen degree. You feel like an unhealthy voyeur watching a lot of this. It's pretty amazing.
The Wire Season 5 – the best written TV show of all time is back. I'm worried about Jimmy Mcnulty. Bunk remains a hero.
Locke And Key – read an advance of this IDW comic last week and it's superb. This Joe Hill can write. Pick up a copy.
Random things I don't love:
Spider-Man 3 and Fantastic Four: Flight of the Silver Surfer. Watched both of these the past few weeks. Just horrible. I've now given up on ever liking a superhero movie (X2, I liked, and some of Batman Begins and Superman Returns, apart from that…). Seriously though, who's writing the scripts of these things? There's good comic writers out there who know how to handle these characters. I'm not asking for a movie that's geekily faithful to the comic book, but I would like a movie that's not an appalling embarassing attempt to be commercial and so broad it makes a fart joke look sophisticated. Give Warren Ellis or Brian K Vaughan one of these to write, for goodness sake. Spider Man-3 didn;t even start until an hour in. And the FF movie? Gah. Don't get me started. Whoever cast Julian McMahon as Doc Doom needs to be put out to pasture and milked by goatherds. The guy's about as menacing as the care bears.
And… vent over.
The St. Louis Rams descending back into the disaster movie they were back in the '90s. That I could've done without, also.
Anyway, hopefully I'll update soon. Hopefully.
Birmingham International Comics Show 2007 – October 10th
Just a short note to say that I'll be attending the above convention this weekend. I'll probably do the 2000AD panel on the Saturday morning at 10.45 and then I'll be wandering around the con hall for the rest of the weekend. May do the writer's panel on the Sunday morning – 11.45. We'll see.
Anyway, if anyone would like to say hello, I'll see you there.
An Appalling Spot Of Radio Silence Followed By Nonsensical Musings – September 12th
Don't you just hate those websites that never get updated? Pointless checking them, eh? Ahem. Anyway can I launch this mini-update by unequivacably stating that I am NOT the Rob Williams who seems to hold the world record for making sandwiches with his feet. I recently recieved an email via this website from a German TV company inviting me to come over and attempt to break my own world record of making sandwiches with my feet. After the initial head scratching and swearing (not your average request, after all), I googled 'Rob Williams' and 'sandwiches with feet' (that most common of Google requests) and discovered that there is, in fact, someone who shares my name who seems to do this for a living. I was tempted to go to Berlin for the freebie, if nothing else. They might have put me up in a good hotel. Although I suspect they may have been disappointed with my end product once the cameras were rolling.
I've been writing comics for, what, six years now? And the best free trip I've been offered in that time is for making sandwiches with my feet. Great. I think the mystical powers that be are trying to tell me something.
I really should've picked an interesting pseudonym when I started this comics game. Check wikipedia and there's a Rob Williams the artist, Rob Williams who wrote about Black Power and hung out with the Black Panthers (he sounds cool). The Library Of Congress actually emailed me yesterday asking me to clarify what my middle name is as they have so many Rob Williams' as authors.
Time for a Rob Williams cull! Now there's an idea for a story. Disgruntled author with common name hunts down those who share his moniker.
Nah, that's bollocks.
Anyway, back in the real world, Star Wars Rebellion #10 is out this week, I believe. The last installment of The Ahakista Gambit. Cover by the rather good Ryan Sook below:
Nice, eh? I'm currently writing a few things – A Meet Darren Dead three-parter for the Judge Dredd Megazine that I've been meaning to write for well over a year. It involves the vengeful ghost of a giant panda and is better than it sounds. There's a new four-part Low Life, again for the Megazine. And I have to finish the second series of The Ten Seconders – Make. Believe – in the next few weeks.
There's one or two over things in the works, which I can't talk about yet. And pitching, lots and lots of pitching. Under no circumstances will I let a combination of my young son, the Rugby World Cup, the new NFL season and Championship Manager prevent me from writing. No siree bob.
Anyway, hopefully I won't take as long to update next time. And hopefully I won't be invited on German TV stations to make sandwiches with my feet.
Bristol Convention Aftermath – May 16th
As with probably every other comic creator/fan in Britain, I'm currently feeling very old and worn out this week. Yes, it's Wednesday, and yes, I still feel rather jaded after the weekend at the comic convention. I wish I was 20 again. Really.
It was fantastic to see so many punters queuing on the Saturday morning, and the con hall was the busiest I've ever seen it. It actually felt like comics were a vibrant entity. I did a brief signing on the Saturday morning and then spent the majority of the weekend in the Ramada Inn bar. Fun. Although I think I need to do more work at a convention next time. And I didn't get to say hello to Brian K Vaughan and find out what happens at the end of Lost. Shame.
Anyway, back to worky things – this almost turned into a blog for a second there. I've written a one-off Judge Dredd for 2000AD which is out this week in Prog 1537. It's a deliberately low-key affair about a writer struggling to complete the official biography of Judge Dredd, and I think it might be one of the best things I've written. No explosions or gunplay, either (so the fanboys will probably hate it):
Also out at the moment is the graphic novel collection of ASYLUM, the first thing I ever did for 2000AD. I'll admit to having some mixed feeling about it now – who does like their early work? But there's still a lot of fun things in there, and Boo Cook's art alone makes it one of the most out there things I'll probably ever be responsible for:
And don't forget STAR WARS: REBELLION 6, out this week. See cover below.
Update on March 21st
The second five issue run of Dark Horse's STAR WARS: REBELLION has been solicited, by myself and Michel Lacombe. Issue 6 will be released on May 9th and it centres on Rebel spy Wyl Tarson, currently working undercover in the court of an Interstellar gangster named Raze. These are characters we briefly introduced in the first run of Rebellion. As much fun as it is to write the likes of Luke and Leia it's cool to flesh out original creations and planets, giving them their own place in the Star Wars mythology.
Fantastic covers too, from Ryan Sook. Here's #1:
and here's #2, due in June:
Nice, eh?
Update on January 30th
Just a quick note to say that the latest LOW LIFE story is currently runing in 2000AD, drawn by the lovely and excellent Simon Coleby. It's the story of the slightly unhinged undercover Judge Dirty Frank, a man who refers to himself in the third person, which is a wonderful character trait, I feel.
Here's the cover…
Update on January 15th
Christmas and the New Year came and went appallingly, but that's a story for another day. In the world of comics WOLVERINE 49 seemed to go down pretty well, despite many online reviewers damning us for the crime of being a fill-in, regardless of the comic itself (heh). Anyway, Laurence and myself enjoyed a lot of positive comments from the issue, and the guys at Marvel seemed to like it. So that was cool.
And Entertainment Weekly listed us as the number nine selling comic book for the month of December, which is great news. Of course, this was all down to myself and Laurence's pulling power, nothing to do with people buying Wolverine regardless of who's creating it. 😉 Still, for a first Marvel book, I'll take number nine in the entire industry.
What else is happening? Just written a one-off, six page JUDGE DREDD for 2000AD. It's my first go at Dredd. It's called The Biographer. I'm really pleased with the script. May well be one of my favourite things I've written. And I've just found out that the rather excellent Boo Cook is drawing it. Boo and I haven't worked together since Asylum, so that'll be cool.
And I just received a comp. copy of the STAR WARS: REBELLION trade paperback through this morning, and it looks great. Go buy it.
Update on December 13th
Well, welcome to my first attempt at a website. You'll have to forgive me as I plainly don't know what I'm doing, and this is very much a work in progress. But a big James Brown 'HUH!' of thanks to my funktastic mate Stu for helping me out with this.
Anway, the major news today, as of December 13th, is the release of:
WOLVERINE #49 by myself and Laurence Campbell.
Here's the cover:
and here's the solicitation info:

SPECIAL DOUBLE-SIZED XMAS SPECIAL: "BETTER TO GIVE…"
It's Christmas Eve, and a heavily armed suicide cult-clad in elf outfits–has taken hostage a mid-Manhattan department store and is threatening to blow the place sky high. Among the shoppers: Logan, who's just itching to sink his (Santa) claws into someone after enduring the Yuletide rush. Should be easy for a damn-near invulnerable force of nature to save the day, right? Think again. All is not as it seems, as a spoiled billionaire's daughter is about to find out, and the true meaning of Christmas will be spelt out… in blood.

I've done a few interviews about it with the comic press of late. You can find pieces at:

http://forum.newsarama.com/showthread.php?t=93971

http://www.wizarduniverse.com/magazine/wizard/002703332.cfm

http://www.comicbookresources.com/news/newsitem.cgi?id=8839

With various bits of preview art.

Seems weird to have the book out there, as it's something I've been looking forward to for some time. It's a bit of a dream come true for me to have written a Marvel comic. Now I just hope people like it.