Nov 4th – Next week! – sees the release of UNFOLLOW #1 from Vertigo. It's the first issue of our new 'social media thriller' ongoing and we're all really excited by it. Amazing job by the whole team – Mike Dowling's interiors, Quinton Winter's colours, Matt Taylor's covers, Tom Muller's logo, some inventive lettering by Clem Robins due to the social media aspect of the book. There's a genuine feeling that we've got something a bit special here.
Hopefully you know the concept by now. Engage solicit text mode:
A dying social media mogul leaves his billions to be split evenly between 140 random people-or however many of them are still alive at the moment of his death. Rob Williams (MARTIAN MANHUNTER, THE ROYALS: MASTERS OF WAR) and Michael Dowling (Death Sentence) assemble a cast that includes a young black man trying to get by in St. Louis, an Iranian reporter in need of hope, a retired special forces soldier with a strange sense of purpose, and a thrill-seeking heiress in this thriller that shows we're all still part of the food chain.
So, if a '140' app mysteriously appears on your phone/tablet, congratulations, you've just won the social media 'Wonka's Golden Ticket' and you're going to be a millionaire. But you'd best watch your back…
Some of Mike's interiors have found their way into the wild with previews etc, and Matt's covers for 2 & 3 are stellar.
Here's an interview Mike and I did with Wired about the book which tells you more: http://www.wired.com/2015/10/social-media-comic-unfollow/
"If you look at the social interactions on Twitter, you can see food chain dynamics: You can see alpha males, people who are in thrall with leaders—even just the words 'follow' and 'unfollow'—that sense of a hierarchy within culture," Williams says. "That's what Unfollow is trying to get across. It feels like it's a new plateau, a new way of interacting. You sit on a train, and no one's looking at each other, they're all looking at their phones. They're all communicating, but in this different way."
I really like that the covers are deliberately made to look like a tablet. Here's my favourite of Matt Taylor's covers thus far (#3, below):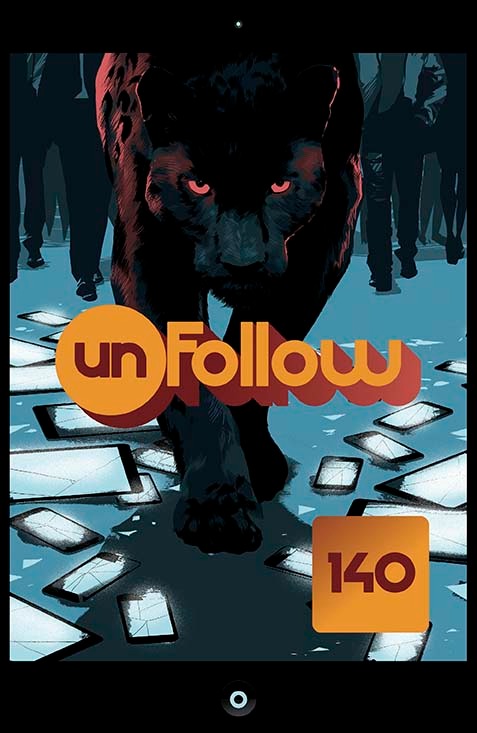 And you can pre-order UNFOLLOW #1-3 digitally from Comixology here: https://www.comixology.co.uk/Unfollow-2015-1/digital-comic/289484?ref=c2VhcmNoL2luZGV4L2Rlc2t0b3Avc2xpZGVyTGlzdC9pdGVtU2xpZGVy
Also out next week is something I'm really excited to be involved with JUSTICE LEAGUE: DARKSEID WAR: THE FLASH. I've really been enjoying Geoff Johns' big JLA epic, it's a chance for me to write characters I've loved since I was a boy in the JLA and The Flash (writing Barry Allen is a big thrill and gets me much needed 'Dad points' with my son, who loves the TV show). Can The Flash outrun the power of death itself?
Great cover by Francis Manupal:
The interiors of this book are a treat too. Jesus Merino and Guy Major have combined for an issue that really pops. Great storytelling throughout.
Also out next Wednesday – BIG week – is DOCTOR WHO: THE 11th DOCTOR #2. Co-written with Si Spurrier, and drawn and coloured by Si Fraser and Gary Caldwell. We kept schtum for a long while about this series' big reveal, so the readers would get a shock when they got to the final page of #1.
But Abslom Daak's back. Subtle old Abslom:
We're all such nostalgists… I loved Abslom Daak back when I first read it in old Doctor Who comics in the early 80s. It seemed very 2000AD in the universe of Who – every 12-year-old wants his own chainsword, right? Created by the late Steve Moore and Steve Dillon, who would go on to more famous things with Preacher etc – Abslom's a great foil to the cerebralism of The Doctor. Abslom's all anarchy – destroooooooooy. He's going to be a fun presence in the Tardis in my & the two Si's Season Two.
Quite proud of Daak's introductory line:
"Hello Doctor, your face looks different…"
"I might cut it off anyway."
That's how you deal with regeneration.
That's all Spurrier's dialogue (above). Funny thing, the co-writing. With Who we've split the first two issues in half. Si does ten pages, I do ten. Then we massage dialogue a bit – not much, actually – to try and have a coherent voice. It seems to work.
Who #3 is all Si, #4 is all me. I enjoy co-writing on The Doctor. The weight and conceptual nature of the book necessitates him being bloody clever, and so two heads are better than one in such circumstance. That's what we found when I co-wrote season 1 with Al Ewing. I think it pushed us both to better work too.
And with Series One we did an A plot running through more 'episode of the week' structure. Series Two is ALL A plot. This one's more novelistic in approach. Every issue is a chapter in one long story – with a deepening mystery The Doctor has to uncover.
Elsewhere MARTIAN MANHUNTER #5 was released last week. Comixology link: https://www.comixology.co.uk/Martian-Manhunter-2015-5/digital-comic/295014?ref=c2VhcmNoL2luZGV4L2Rlc2t0b3Avc2xpZGVyTGlzdC9pdGVtU2xpZGVy
That is J'onn J'onzz kissing Aquaman there, sort of. Can't fault the logic can you? Wet and hot is wet and hot.
The thing I'm enjoying most about this series is our constant undercutting of expectations. If you're writing a book that you feel isn't like anything else out there on the shelves at the moment, I think you're probably on the right track. And our art team led by Eddy Barrows, is stellar.
Check out this sneak peak from the upcoming #6 – our first arc grand finale.
That's not J'onn by the way. Who could it be? Looks kind of femenine…
Anyway, enough. Big announcement soon, I'm told. Something I can't talk about yet. I'm also writing a new Sensitive Klegg story for Judge Dredd, that the always-a-treat-to-work-with D'israeli is drawing and colouring. Looks wonderful.
More soon…