Announced last week was the official DARK SOULS 2 comic, INTO THE LIGHT. This, of course, is a tie-in with the forthcoming enormously bloody huge computer game sequel from Namco Bandai. I can't say a huge amount about the book itself here, but I've co-written it with the talented Andi Ewington (45) and it's been drawn by the excellent Simon Coleby (The Authority). Si and I have worked together a few times over the years, most notably on Low Life for 2000AD, and his dynamic heavy blacks always add a huge amount of mood. And, personally, I think this swords and dragons world is right up his aesthetic alley. All very metal, as is Si's wont.
Here's the cover, with colours by my old Cla$$war collaborator Len O'Grady. Small world, innit?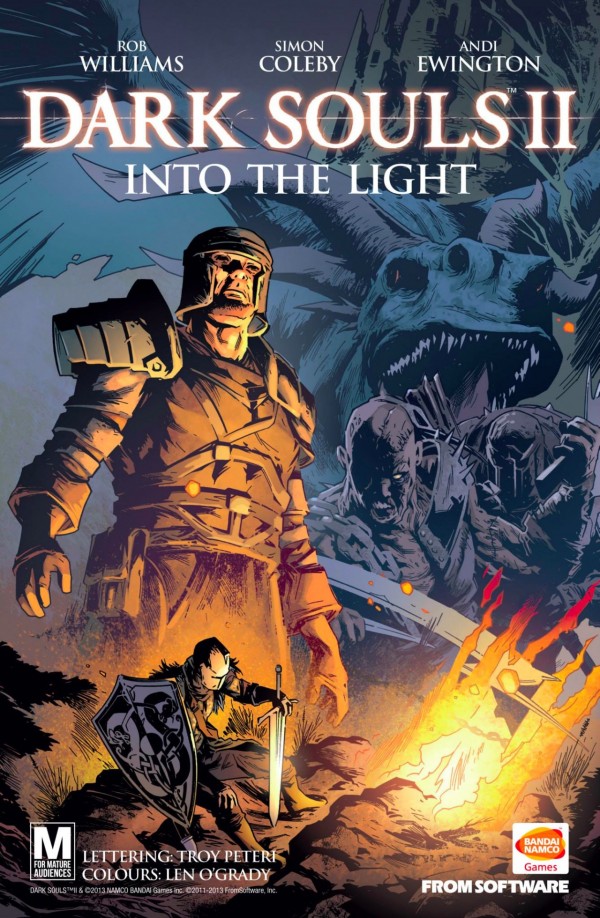 Dragons, undead thingies and swords. What more do you want? It's funny,  not really having done much work in the gaming industry before, just how much interest there has been in this book. The comic industry will give you a handful of google entries for most projects. A Tweetdeck search for 'Dark Souls 2: Into The Light comic' rolls on and on endlessly like an undead labradour chasing a dragon's toilet roll (drama!).
Si, Andi and myself will be signing at the Namco Bandai booth at the upcoming MCM London Expo (October 26th-27th). 1-2pm on Saturday, 3-4pm on the Sunday. There will, no doubt, be Dark Souls 2 goodies to be had at the booth. Come and say hello.
Here's one of Si's interior pages from the book:
In the words of my mate Laurence Campbell when he started watching Game Of Thrones: "I haven't been this excited since I had a +12 broadsword."
Also, ORDINARY #2, by D'israeli and myself, is in the Judge Dredd Megazine #341, on release to the public tomorrow (16th). It features probably my favourite line of dialogue in the entire book. See if you can guess it (clue, it happens in the bar). At New York Comic Con on the weekend Titan Comics announced the forthcoming US version of Ordinary. Here's the cover.
In other news, it was announced that I'm writing two of the books in the upcoming MARVEL UK: REVOLUTIONARY WAR mini-series. Have really enjoyed this. Just about every UK-based Marvel character you can think of drops in at some point. I'm doing THE KNIGHTS OF PENDRAGON and SUPER SOLDIERS. More news when I can give it.